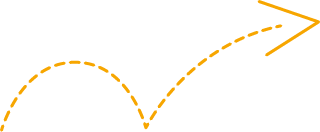 We all know exercise is good for us. Countless studies present the positive benefits of fitness for our physical, mental, and social wellbeing.
And these benefits are only enhanced by exercising outdoors.
But despite the obvious advantages, motivating people to take action on everyday fitness activities can be a challenge. Whether it's time pressures, the cost of a gym membership, or simply a lack of commitment, creating a habit and making physical activity enjoyable is the key. The challenge is to create physical activities that are fun and inspire people to keep coming back again and again.
ACTI'FUN helps make fitness fun
To help people overcome many of the barriers that stop them from taking part in regular fitness activities, Proludic have developed the ACTI'FUN range of play and fitness equipment. Designed to be inclusive and to appeal to people of all ages and abilities, ACTI'FUN combines play and sport to trigger people's interest and motivation to get active. The ACTI'FUN concept is founded on a central fitness formula and on activating seven fundamental fun-sport motivations.
The fitness formula
We've designed each piece of equipment to meet the needs of different users and address one or more of our fitness formula ingredients. We've measured and compared the activation of four elements of the fitness formula – muscle strength, heart health, balance, and coordination – for each model. This means that when you're designing an outdoor fitness space, you can combine different ACTI'FUN units to offer a range of activities to appeal to your specific target audience.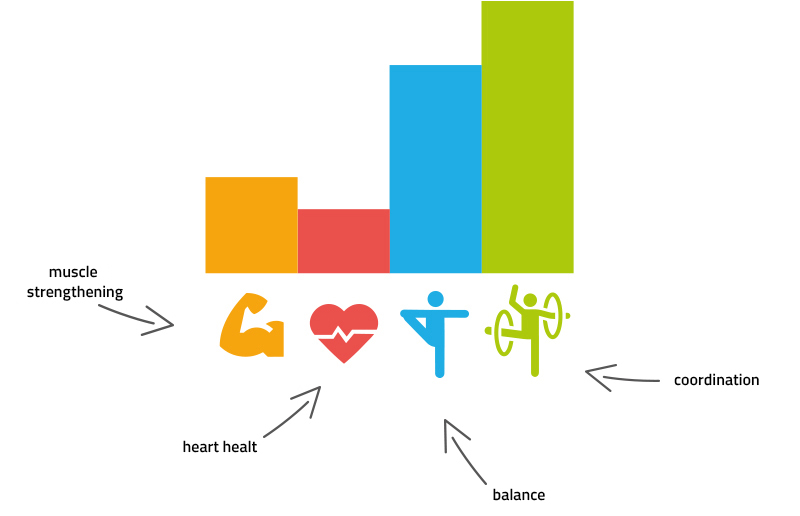 The fun-sport motivations
When exercise is fun, we're motivated to make it a habit. That's why the ACTI'FUN solution addresses seven key fun-sport motivations. Together, they help to build healthy habits, encouraging people to be physically active and to overcome the obstacles to regular exercise.
Here's how they work:
The ACTI'FUN app has has instructional videos for each exercise module to suit different levels of fitness.
With the sound amplifying smartphone holder you can play music on your phone or take selfies and videos to post on social media.
You can feel the different physical sensations in your body while exercising and having fun.
Timed circuits and working out in pairs or groups adds to the challenge as you strive to reach your personal best.
The equipment design is adapted to allow for a range of diverse body types, making it available for all.
The inclusive design of the equipment modules makes it easy to exercise with friends, help each other, and socialise at the same time.
Equipment modules with different levels of difficulty mean you can make progress as your fitness improves through regular use.
ACTI'FUN: three fun-fitness ranges that everyone will love
The appeal of our ACTI'FUN solution is that it's all about sharing the experience with others. Not only is exercising with friends more fun, but we're also more motivated to make it a habit.
There are three ranges in the ACTI'FUN solution: ACTI'Ninja, ACTI'Street, and ACTI'Fit. Central to the design of all three is their appeal to all body types, with mixed ability, intergenerational, and inclusive engagement built in.
ACTI'Ninja
Obstacle trails for children aged 6 years or over
Children and young teenagers improve their physical fitness as they take on the Ninja trails, racing from one obstacle to the next as they try to beat the stopwatch at the starting line. They develop their strength, balance, flexibility, and endurance, while having lots of fun with friends!
ACTI'Street
Create bespoke Street Workout combinations – certified by the World Street Workout and Calisthenics Federation.
Street Workout is an urban sport, a cross between weightlifting and gymnastics. It involves a series of exercises calling for strength, flexibility, and balance. Now Proludic, together with the World Street Workout and Calisthenics Federation, have designed an array of high-performance equipment to suit both amateur and professional users. Use one of our standard combinations or combine our twenty-three exercise modules to build your own ideal outdoor Street Workout combination. Tailored to wheelchair users.
ACTI'Fit
Fitness stations and equipment to create an enjoyable outdoor athletic experience – for users aged from 7 to 77!
Proludic's ACTI'Fit range of outdoor fitness equipment is inspired by facilities found in the local gym. The equipment is designed to allow for a variety of exercises targeting either specific muscle groups or strengthening cardiovascular fitness. Ideal for creating an enjoyable outdoor athletic experience.
The ACTI'FUN app: it's like having a personalised sports and fitness coach!
Offer added value to users of your fitness equipment with our ACTI'FUN app. Developed by Proludic to work with ACTI'Street, and ACTI'Fit ranges, the ACTI'FUN app guides users on how to correctly use the equipment, and helps them track their progress over time.
By accessing QR codes placed on each item of equipment, users can view exercise videos and choose the type of activity that suits their physical ability and individual fitness targets. They can also store each training session and track their activities against the stopwatch.
The ACTI'FUN app is like having a virtual coach!
It's free, easy to use, and is full of information to support all users, beginner or experienced, young, or old. The app helps them construct their own personal program independently, regardless of age, ability, physical condition, and motivation.
The ACTI'FUN solution: activating fun fitness in our community
It's clear that being inactive has both individual and societal costs. And while many are investing in community sports facilities, the challenge is to motivate people into action to use the equipment on offer. Proludic's philosophy is that making fitness a fun activity to be shared with others is fundamental to outdoor fitness equipment design and the successful provision of a fitness area embraced by the community.
The ACTI'FUN solution is an innovative concept that not only delivers on quality and versatility, it meets society's needs to build happier, healthier communities.
ACTI'FUN by Proludic has received a prestigious Good Design Award Winner Accolade in the Product Design category in recognition for outstanding design and innovation. View more about the Good Design Award and the jury's comments about ACTI'FUN.
Are you ready to learn more to help your community have fun and get fit?