Article published on 20 April 2020
Here at Proludic we have been off to a busy and exciting 2020! We are pleased to present our innovative new products for 2020.
The start of 2020 saw the launch of our NEW Catalogue which includes Proludic's brand new Diabolo Baby early childhood range, new inclusive Multi Use Games Areas and Street Workout products and over 40 new items from fun Springers to fantastic themed Towers!
What's new in our PLAY range?
Our brand new Diabolo Baby range is specifically designed for early childhood – for children from 6 months of age. Modular in nature, the Diabolo Baby equipment can be installed as a stand alone item or added to our existing Diabolo range designed for children from 2 years old, allowing for multiple combinations and encouraging more interaction between children. The classic 'must-have' play features remain on each structural element whilst offering more varied and elaborate combinations, providing children with further opportunities to discover, be challenged and have fun. Diabolo Baby is ideal for use in a broad range of play locations – public parks, kindergartens, childcare centres, shopping centres, hospitals, hotels and restaurants.
Diabolo is available in two colour palettes: "Zingy" (yellow, orange and green) and "Pastel and Wood" (lagoon blue, apple green and oak).
Proludic have introduced various themed play equipment for both younger and older children:
The 'Jungle city' (J2688) is a structure made up of multi-play equipment comprising two tall Adventure Treehouse Towers connected by a net tunnel, a tube slide and various access paths that encourage children to become real acrobats. It can accommodate up to 48 children aged from 3 years upwards.
Our new 'Discovery' themed slide (J2689) is a unique tube-slide resembling a plane taking-off over a City. It incorporates a Speed Slide, a cloud-shaped curved ladder, and panels in the shape of a plane, cloud and city.
All aboard the Ludic Express® (J3512)!  This innovative giant circular track with three linked cars allows children to ride along with friends.  Featuring an automatic braking system and the option to customise with Proludic's award-winning Grafic Games.  As well as being great fun the Ludic Express® supports the development of children's motor skills, coordination and encourages social interaction through team play.
The 'Pharos' Tower (J47251) is inspired by one of the seven ancient wonders of the world – the Egyptian lighthouse located at the mouth of port Alexandria. As expected, it is tall in nature, standing almost 7 meters high while accommodating up to 18 children.
Our Roll Runner® (J3510) designed for older children from 6 years old is now available as an interactive E-Roll Runner® (J3511)! It includes electronic and interactive features such as lights and sounds. The giant wheel is 2.30 meters high and is ideal for providing children with opportunities to challenge each other whilst being active.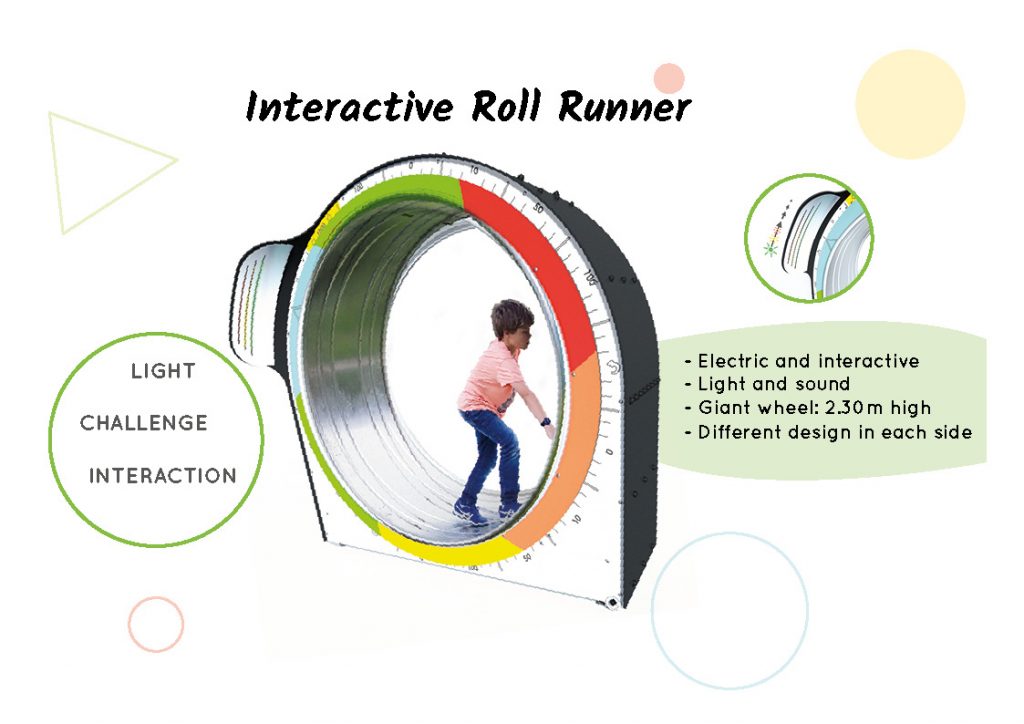 Our new Sand and Water Play stations accessible to children with disability are a great source of sensory experiences inspiring creativity in children of all ages and abilities. The coloured compact composite panels ensure a robust, durable and sustainable equipment solution.

Springers are an essential element of play spaces for young children. Our new 'Ladybird' (J869) Springer along with other Springers based on popular themes have been upgraded with new materials that provide a durable and low maintenance solution.

Our natural Origin' range has been extended with 5 new themed-Multiplay structures to fire up children's imagination. These include an explorers' hut, bear climbing equipment, a plane, boat and jeep, suitable for children aged from 1 year upwards.
What's new in our SPORTS & FITNESS range?
Favoured by children and teens for practising all kinds of ball sports, Multi Use Games Areas (MUGAs) are a fantastic way of providing for multi-generational play activities.

Proludic's iconic MUGAs have been upgraded for 2020 with further development of an anti-noise design and ultra-strong fencing. In addition to this, the MUGAs and Street Workout equipment are now both modular meaning they can be combined and customised to create a multi-functional sports and fitness area. Proludic's Multi Use Games Areas are now available in more shapes and sizes than ever before! It's also possible to customise your own MUGA!
Our URBANIX Fitness range has also seen new developments with 4 pieces of equipment that can recharge smart devices via an inbuilt weatherproof USB port as people work out. This is a fantastic feature which adds to an already unrivalled unique range thanks to its exclusive patented hydraulic piston technology which offers 8 levels of resistance. This unique feature enables people of all abilities to exercise at a pace suitable for them and to progress the difficulty of each activity as their fitness improves.
To request your copy of Proludic's New Products for 2020 Brochure, please click HERE.
Recent
Article published on 4 April 2022
Creating a successful inclusive play area means making it accessible to as many people as possible. At Proludic, we want to offer all children the enjoyment of playing together. We create products and designs so that the playground can be a space for everyone – an inclusive and accessible play space! Our latest innovations in...
Article published on 11 February 2022
Our 2022 Proludic Catalogue is available on request and can also be viewed on our website. Take advantage of Proludic's advice and expertise in play and sports areas, discover more than 40 new products and over 500 products in our Play, Sport & Fitness and Outdoor Furniture ranges. Exciting new features in our Sport range...