Article published on 11 June 2015
GRAFIC GAMES is an award-winning innovation by Proludic that combines artwork with Proludic play equipment. It is an ideal way to enhance any playspace and create strong links to local culture and the environment. We can collaborate with community artists to create site-specific artwork to apply to Proludic play equipment. Optical illusions or corporate branding can also be incorporated.
The whole manufacturing process is carried out by Proludic, ensuring the high quality of the finish and long term durability of the play equipment. The Grafic Games innovation enables designers to create unique playground art for site specific playground solutions.
Alternatively we have six different themed graphic finishes that enhance the playfulness and appeal of the play equipment – Grafic, Etnik, Océane, Metropolis, Medieval and Amazone. Children love discovering the intricate artistic details that inspire stories and adventures in the playground!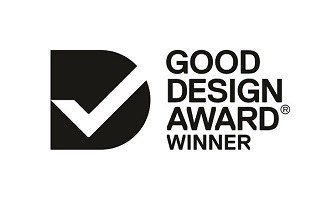 In 2015 Proludic's Grafic Games innovation achieved a Good Design Award® Winner in Australia's most prestigious awards program for design and innovation managed by Good Design Australia. The judges commented:
This is a very competitive market and to offer something new and innovative is very challenging. Grafic Games offers a whole new ecosystem of options for customers resulting in an original and innovative experience. The quality and finish of the manufacturing is second to none.
Examples of our projects featuring Grafic Games are illustrated below: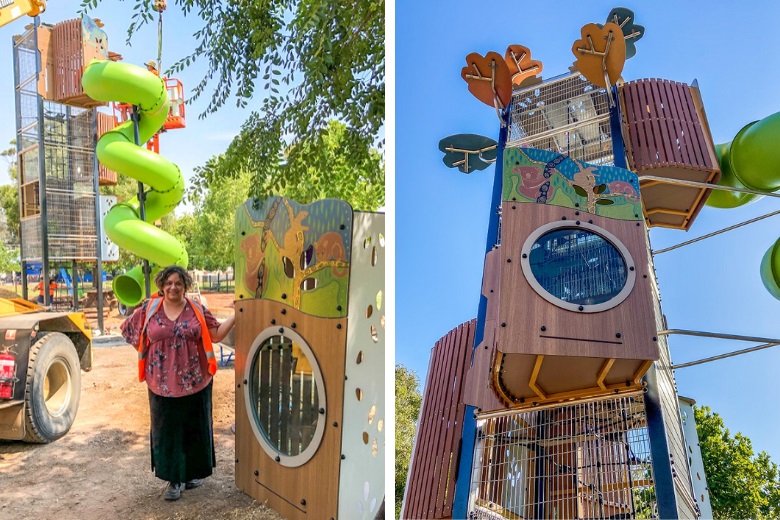 Riverside Park Adventure Playground, VIC: local indigenous artist Sandra Kropinyeri created artwork based on traditional stories of the Swan Hill region. We used our Grafic Games technique to apply the artist's designs to a giant, custom-designed Kanopé Tree Tower. This helps to strengthen the community's connection with the playground and supports imaginative play.
---
Bespoke Artwork Play Tower: working in association with the artist @Lucy Lucy we prepared a bespoke design for our play tower at a playspace in an area of Melbourne well known for its street art. The client is delighted with the proposal which is due to be implemented by the end of 2020. In addition a custom Proludic Butterfly Springer with graphics of an endangered endemic species creates links to the local wildlife.
---
Livvi's Place Inclusive Playground, Wolseley Park, NSW: Proludic's Grafic Games was used to apply custom designed graphics to feature panels of koalas and gumtree leaves that are attached to the tower structure. The friendly koalas delight the locals and ignite the imagination!
---
Fitzroy Crossing Playground, WA: to help strengthen the community's connection with the playground, Proludic's Grafic Games technique was utilised to apply original artworks to the play equipment. Local children prepared the artworks under the mentorship of their elders and teachers. Proludic's expertise was then employed to create the finished artistic play equipment items which connect with the local environment and encourage imaginative and social play. 
---
Shang Street, Mooroobool, QLD – a playground designed by local children: the local community at Shang Street, Mooroobool in Cairns has a unique and personalised playground! Drawings created by local children that represent their favourite animals were applied on the Diabolo Multiplay equipment.
---
Leichhardt Park Fruit-Themed Playground, QLD: special graphics representing fruits and a grocery store were applied to the play equipment panels. The graphics were created by our in-house design team.

---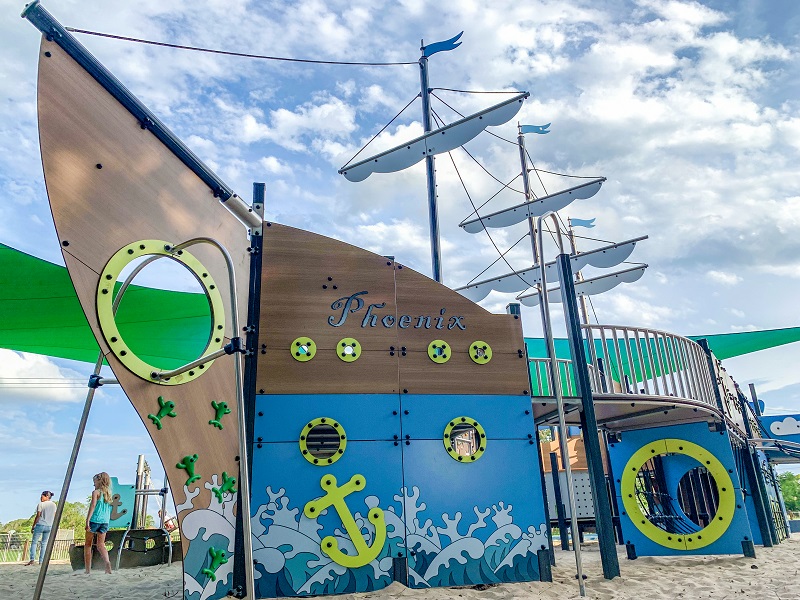 Jacaranda Park Inclusive Playspace, NSW: our Grafic Games technique was used to apply custom designed wave graphics to the panels of the Galleon,  giving the impression of a ship moving through the ocean. Other elements inspired by the maritime world such as anchors, portholes, seagulls and clouds enhance the coastal theme.
---
Amazone Tower at Hilltop Playground, SA: featuring our Grafic Games Amazone finish, the Giant Amazone Tower is covered with graphics replicating lush, savage vegetation, exotic animals and sacred totems that plunge children into a complete change of scenery where the environment is transformed into a tropical jungle.
---
Princess Elizabeth Park, SA: The City of Adelaide wanted to build a playground in keeping with the historical background of the playground that is relevant to its current use. This was the perfect opportunity for a medieval castle play tower with Grafic Games from Proludic.
---
To view our Grafic Games range, click HERE.

For further information on how you can create unique playground projects with Grafic Games please contact Proludic on 1300 800 181 or email: info@proludic.com.au
Recent
Article published on 8 September 2020
Proludic Diabolo Baby ® Wins Good Design Award Winner Accolade in Australia's International Good Design Awards. The winners of Australia's peak international design awards – the highest honour for design and innovation in the country were announced today during the 2020 Good Design Week. Proludic Diabolo Baby ® received a prestigious Good Design...
Article published on 31 August 2020
We're thrilled to announce that Waitara Park Inclusive Playspace WON the Playspace AWARD for projects over $0.5M in the 2020 regional NSW/ACT Parks & Leisure Australia Awards of Excellence! Congratulations to Hornsby Shire Council and all involved in the creation of this amazing playspace! This award is a great recognition of how a well-designed inclusive playspace, with...