Article published on 13 March 2017
When tasked with outfitting a multi-purpose outdoor youth space that caters to older children, Proludic has hit the nail on the head with an adventure park full of high-flying thrills!
Located in Mount Annan in Sydney's south-west, Camden Council's Birriwa Reserve is an adventurous and exciting outdoor youth space replete with play and sports equipment that meets the recreational needs of 12 to 17 year-olds.
The Birriwa Reserve's parkland setting consists of four main sections that offer a choice of adventurous play opportunities and passive recreation spaces, blended together seamlessly with attractive landscaping. Accessible pathways throughout the site help provide access to all of the equipment.
The main feature of the Birriwa Outdoor Youth Space is the custom-designed Proludic Tower and Tube Slide combined with a large Dynamo Galaxy pyramid net, which links to a Net Bridge and 30m long Double Cableway. The Dynamo Galaxy Net stands at an impressive 8.7 metres high and offers scaling challenges for the truly adventurous. The Double Cableway provides opportunities for racing games with friends and gives children an outlet to burn up their excess energy.
The Proludic Skysurf is a unique rotating item that replicates the sensation of windsurfing, providing big thrills for teens as they fly through the air. The rocking and rotating Rodeoboard is the ideal item for teens to challenge each other with winner-stays-on challenges.
Multiple swing sets, fitness equipment, a sports court, table tennis tables and a playground for younger children are also located throughout the reserve. Birriwa Outdoor Youth Space provides a unique facility in the region for teens to get outside and be active in a safe and fun way. The reserve is a real asset to the region and Proludic has expressed their pride in being able to contribute to the development of this large-scale project.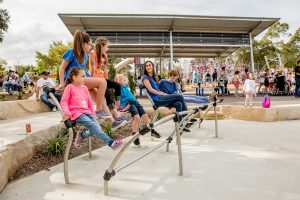 Please click here to view the full case study.
Recent
Article published on 21 May 2020
Let's journey around Australia and discover our trailblazing Play Towers. With a surge of joy as they climb higher up the tower, children build inner resilience and physical strength as they expand their imagination in play. Choose from our extensive catalogue of nature-inspired and imaginative Play Towers. Or let us custom-design a bespoke play tower for your next project. Tailor...
Article published on 24 October 2018
Proludic supports inclusive schools by providing expertly designed inclusive and innovative play spaces that foster motor, cognitive, social and sensory stimulation for ALL students. At Proludic inclusion is a key aspect of our philosophy because we believe that all children – regardless of their disabilities or other differences – should have access to play facilities....