Article published on 24 August 2015
Experts agree that children with disabilities are like all other children – to progress they need to develop their cognitive, psychomotor and social skills, as well as their independence. They want to enjoy themselves like everyone else, with everyone else.
At Proludic inclusion has always been a key aspect of our philosophy. We believe that all children should have access to the same play facilities.
As a provider of playgrounds for over 25 years, Proludic has developed considerable expertise in disability and inclusion. We are now taking our approach a step further: as a member of NovaCHILD, a network dedicated to innovation for the well-being of children, Proludic have committed to working with its experts, which include researchers, health professionals, universal design specialists, and support associations for children with special needs.
Together we have identified the specific features and special needs of less able children in play areas, and measures that can be taken to compensate for differences and ensure accessibility for all.
The data resulting from this work has been included in our new INCLUSIVE PLAY AREAS GUIDE that designers can refer to every time they want to design an accessible play area. We have provided data on various challenges facing children and describe specific features, needs and possible solutions for creating a successful inclusive play area.
Information which highlights the inclusive play functions and benefits of items of Proludic play equipment will help designers select the right play equipment for inclusive play areas.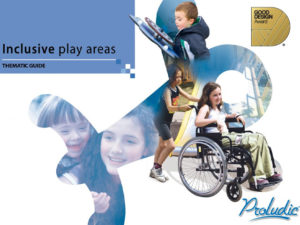 The Inclusive Play Areas Guide contains a wealth of information which makes it a very useful resource for anybody involved in providing playgrounds. Our Guide has received the Good Design Award 2016 in the Social Innovation category in Australia's oldest and most prestigious awards program for design and innovation, the Good Design Awards. CLICK HERE to discover the features & benefits of our Inclusive Play Areas Guide and our Inclusive Play products.
For further information regarding the Inclusive Play Areas Guide and to learn more about designing inclusive playgrounds please contact Proludic at info@proludic.com.au or on 02 9485 8700.
Examples of our inclusive play equipment:
Recent
Article published on 6 April 2021
Proludic's award-winning, nature-inspired Kanopé range has been expanded with new playful and inclusive "tree" climbing structures perfect for any play environment – introducing the Ka'Yop Trees! Since its introduction, the Kanopé range has constantly evolved, offering new and ever more innovative play features. Now the Ka'Yop trees have expanded the play possibilities – with different varieties of...
Article published on 22 February 2021
Proludic presents our 2021 New Products Brochure with more than 30 innovative new products of Proludic exclusive designs for play! Request your copy now or browse the brochure on our website! What's NEW in our PLAY range? Kanopé, the adventure continues! Our award-winning, nature-inspired Kanopé range is expanded with new playful and inclusive structures designed...