Article published on 30 March 2015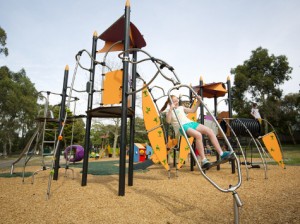 The City of Boroondara selected the biggest "Biibox Multi Play" from Proludic in the upgraded playground facility at Sir William Angliss Reserve, Hawthorn. Proludic have provided a fantastic variety of play opportunities for a wide age group of children in the new playground.
Sir William Angliss Reserve features Proludic's impressive J45417 Biibox Multi Play. This very large Biibox structure gives the playground a modern and contemporary look that combines attractive flowing curves with robust materials.
Biibox playgrounds are an exciting meeting point for children aged 3 to 12 who can test and develop their motor skills and find other children to play with. The combination of platforms at different heights, walkways, tunnels, slides, climbing nets, cableway and spinning gyro allow children to select different levels of challenge and test their balance and agility, all whilst having fun with friends.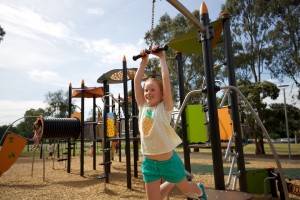 The playground also features a Diabolo Multi Play, Tightrope Circuit, Swings and Springers to cater for young children. An accessible pathway leads to inclusive play equipment such as the Lottery Play panel, Farm House, The Jeep, Rainmaker where all children can play together – no matter what their ability.
Older children, teenagers and adults can test their strength on fitness items such as the Horizontal bars and Monkey bars.
A fenced sand play area includes The Sieve and Digger for sand play activities which a wide age range of children can enjoy.
Click here to watch a video and view more photos of the project.
For further information on this playground or assistance with your next project please contact us at info@proludic.com.au
Recent
Article published on 21 May 2020
Let's journey around Australia and discover our trailblazing Play Towers. With a surge of joy as they climb higher up the tower, children build inner resilience and physical strength as they expand their imagination in play. Choose from our extensive catalogue of nature-inspired and imaginative Play Towers. Or let us custom-design a bespoke play tower for your next project. Tailor...
Article published on 24 October 2018
Proludic supports inclusive schools by providing expertly designed inclusive and innovative play spaces that foster motor, cognitive, social and sensory stimulation for ALL students. At Proludic inclusion is a key aspect of our philosophy because we believe that all children – regardless of their disabilities or other differences – should have access to play facilities....